NFRW 41st Biennial Convention
September 23 @ 8:00 am

-

September 26 @ 5:00 pm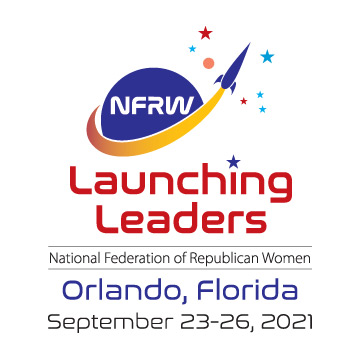 The National Federation of Republican Women is #LaunchingLeaders this September at the 41st Biennial Convention in Orlando, Florida — and all Federated Republican women's club members are invited!
Convention attendees will have the opportunity to:
Network with more than 1,000 like-minded Republican women from across America
Hear from top-level national speakers
Receive cutting-edge training to help counter the radical left
Elect our Federation's next national officers
Login to your NFRW account and register today and take advantage of the special Early Registration rate, which closes in less than a week.
https://www.nfrw.org/convention-orlando-registration?_zs=6tifa&_zl=7QOg2
For Assistance or Info
Contact the registrar by email at NFRW@epsilonregistration.com or phone at (888) 883-3734, ext. 820, Monday through Friday, between 9:00 am and 5:00 pm EDT
Registration Deadlines
JULY 22, 2021:
Early online registration, at a rate of $449, ends.
AUGUST 26, 2021:
Regular online registration, at a rate of $485, ends.
SEPTEMBER 17, 2021:
Late online registration, at a rate of $550, ends. After this date, registration is on site only at a rate of $630.
Share This Event!