OKCRWC March General Meeting
March 1, 2022 @ 10:30 am

-

12:00 pm
10:30 AM Networking with mini muffins and coffee/tea
11:00 AM Meeting
Featured Speaker: Carol Davis, Election Protection Initiative Director, FreedomWorks
Please RSVP for members and their invited guests one of 3 ways:
Put "Going" on the event post for this meeting on our private Facebook group – https://www.facebook.com/events/
Call or text 405-397-4257
Email [email protected]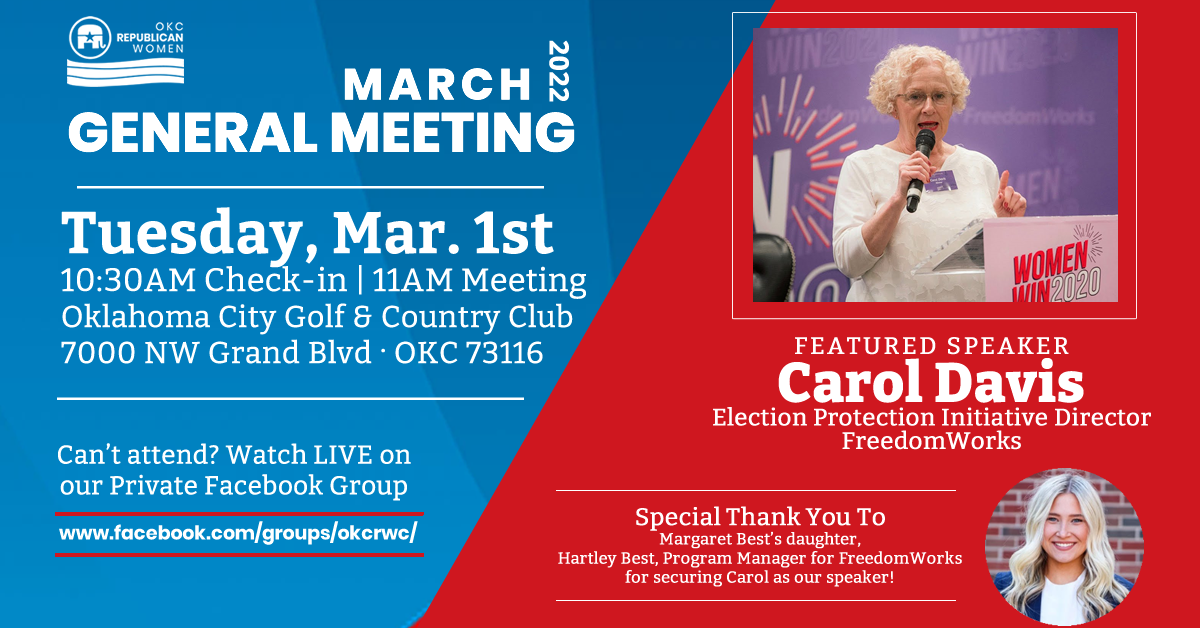 Carol Davis was recently brought on as FreedomWorks Election Protection Initiative Director to travel and train activists across the nation on the importance of being involved in the ins and outs of our election system and engage them on the rules and regulations at both the state and local level. Carol has been an election officer herself and as a FreedomWorks ambassador, she is involved specifically in her local elections and legislative efforts for election protection in Illinois. Her grassroots organizing is unmatched and will be key in gaining momentum for voting integrity laws now not just in Illinois, but in states across the country.
FreedomWorks exists to build, educate, and mobilize the largest network of activists advocating the principles of smaller government, lower taxes, free markets, personal liberty and the rule of law. They are the largest grassroots organization in the nation with over 6 million activists.
In the fall of 2020, FreedomWorks established its Election Protection Initiative with the goal of training its activists to become involved in the election process. They work to restore confidence in elections by advocating for state-level election integrity legislation; registering new voters, and involving our activists directly as elections officers. Throughout 2021 and 2022, FreedomWorks will host activists at events throughout the country, training them on election integrity best practices and equipping them to serve as officers of elections and as poll workers and watchers. By the time the next election cycle rolls around, our community's confidence in elections will be restored.
Grassroots activists like Carol are the backbone of the liberty movement. We are excited to welcome Carol to Oklahoma City and hear how we can make sure our Oklahoma elections maintain integrity at the local and state level.
Share This Event!