OKCRWC August General Meeting featuring Julianne Romanello
August 2, 2022 @ 10:30 am

-

12:00 pm
Mark your calendars for Tuesday, August 2nd to hear our featured Speaker, Julianne Romanello, Ph.D Independent Scholar and Reporter. She'll give us an overview of what is going on with the substitution of Corporate Governance (Inclusive Capitalism aka "Communism") for Representative Government. We are witnessing the end of politics as the global economy, directed by billionaires and hedge funds, imposes a new communitarian ethics that cancels the very idea of debating issues within the political process. She will discuss the impact investing/Environmental, social, and governance (ESG), the World Economic Forum's (WEF) effort to reformulate the definition of a corporation, the trouble with P3s – especially for education and fiscal responsibility – and social credit scoring relevant to Oklahomans.
We'll have networking at 10:30AM with complimentary muffins, coffee, and tea. Meeting starts at 11AM. Open to our members and their guests. Please invite your like-minded conservative friends. See you there!
Please RSVP on Facebook or text or call the club at 405-397-4257.
Thank you to our meeting sponsor, OKCRWC Centennial Member, Ginger Sloan and Encore Professional Medical Services.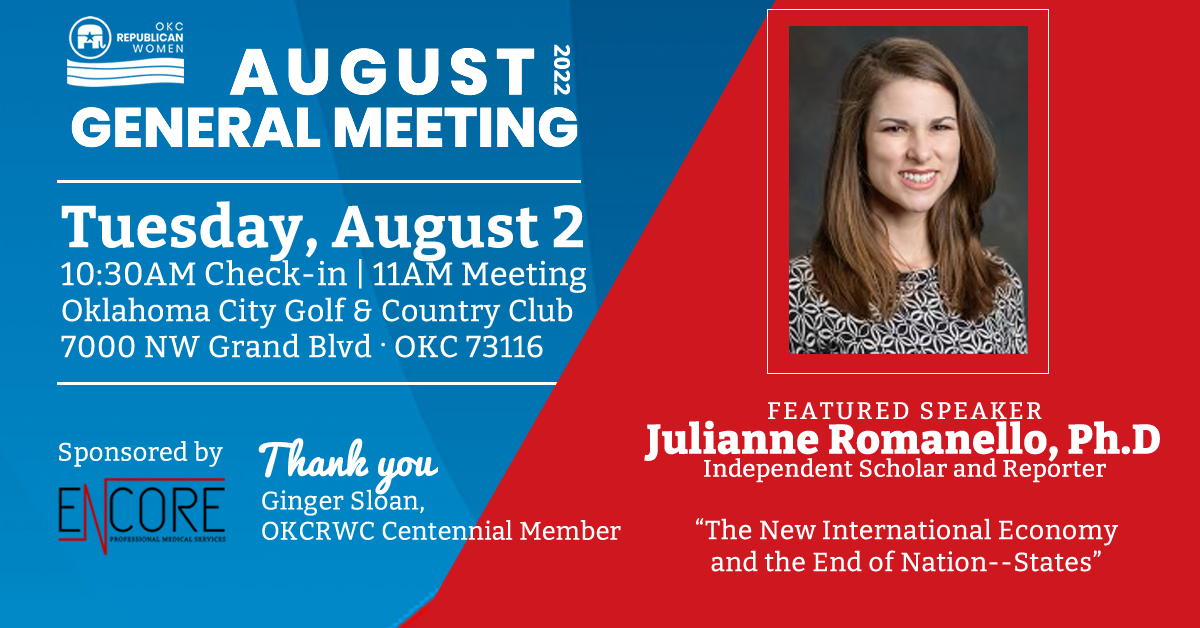 About Julianne Romanello
Julianne Romanello is a mother of four and an independent scholar whose academic research interests include the life and writings of Eric Voegelin, Plato, and Kierkegaard. She has taught at several colleges and universities near her hometown of Tulsa, Oklahoma, most recently at the University of Tulsa, which was restructured in 2019. Since then, Julianne's research has
focused on the corporate takeover of higher education and the development of the "P20 pipeline" in order to advance the globalist agenda of the Fourth Industrial Revolution. She has appeared on international radio and podcasts, maintains an active social media presence, and proudly boasts having been blocked from the WEF Facebook page. Her website (always in-progress) is HeartsoverHexagons.com.
Share This Event!